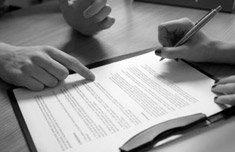 We've come to realize that good customer service is the only way for an attorneys firm to distinguish itself from its competitors. It is therefore of utmost importance to accept that true customer service can solely be achieved by understanding the daily needs and frustrations continually experienced by the man on the street, entrepreneurs and businessmen/-women alike. This firm truly understands and associates with these needs and frustrations and has consequently, due to this intimate understanding and association, been successful in retaining existing clients as well as continually rapidly expanding its client base.
Detailed Fields of Service
We offer to our clients, whether they are individuals or companies, all services and legal advice through legal staff specialist in all fields of Iraqi law to our clients so they can perform their work legally, does not contradict with the provisions of applicable laws. The firm focuses on various aspects of services and expertise within the legal field. A distinguishing attribute of the firm is its pursuance of a value-adding, solution-orientated, cost-efficient approach in order to optimize its services to clients. We offer the following dedicated services:

The law of personal status and family (including the law of inheritance).
Registration of trademarks and intellectual property rights.
Arbitration and alternative methods of dispute settlement bank / financial.
Corporate law and commercial law.
Litigation.
Administrative Law.
Maritime Law.
Aviation Law.
Transport Law.
Construction Law.
Law of Oil and Energy.
Tax and Customs Law
Real Estate Law
Environmental Law
The Future
Without a strategic plan of development within a firm, no business can prolong itself on a day to day basis, let alone survive into the future. With the enthusiasm and the expertise of our staff, enhanced services to our clients and utilising clients and the market as a guideline, opportunities are created ensuring expansion of Al-bayan firm.